Jim,
For what it's worth, I modified two the Proto2000 2-10-2's. I added the Elesco FWH to my 6308 and a Worthington FWH to my 6306. See photo. I also increased the height of the coal bunkers and adder HO coal. Added some other brass casting and then weathered it. It's easy to make these changes. See photos.
RAY Bedard
San Jose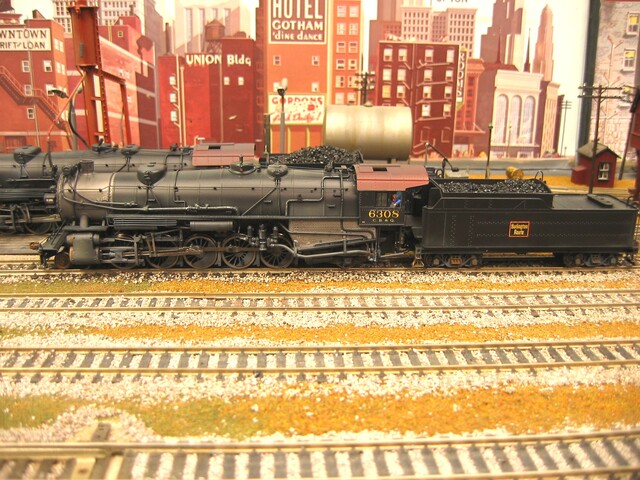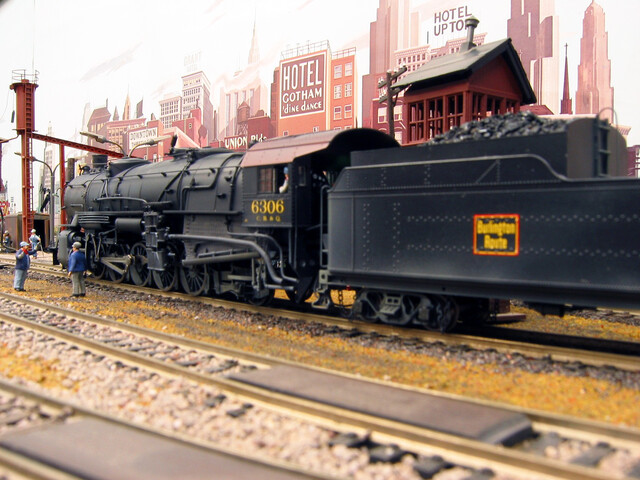 ---
From:
CBQ@groups.io <CBQ@groups.io> on behalf of BCOJim <bcojim@comcast.net>
Sent:
Wednesday, May 3, 2023 3:45 PM
To:
CBQ@groups.io <CBQ@groups.io>
Subject:
Re: Further To [CBQ] Video: Steam Engine Servicing on the C&S Ry
Thank you Louis!
That is a beautiful photo of No. 6308. I can use that for accurately upgrading that Proto-2000 that starred in the video.
Always good info in this group!


Jim
---
From: CBQ@groups.io [mailto:CBQ@groups.io] On Behalf Of Louis Zadnichek via groups.io
Sent: Wednesday, May 3, 2023 4:24 PM
To: cbq@groups.io
Subject: Further To [CBQ] Video: Steam Engine Servicing on the C&S Ry
Jim - Image attached of No. 6308 with its Elesco feed water heater - Louis
---

From: lzadnichek@aol.com
To: CBQ@groups.io
Sent: 5/3/2023 5:19:52 PM Central Standard Time
Subject: Re: [CBQ] Video: Steam Engine Servicing on the C&S Ry

Jim - BEAUTIFUL modeling, but the date couldn't be June 1958. CB&Q Class M-3 2-10-2 type No. 6308 was sold for scrap in March 1954. In fact, the entire roster of Class M-3 locomotives were sold for scrap during 1953 and 1954, Plus your No. 6308 had an Elesco feed water heated, not a Worthington as modeled. See attached image of No. 6308. Nonetheless, very well done! - Louis


In a message dated 5/3/2023 4:29:35 PM Central Standard Time, bcojim@comcast.net writes:

As a follow-up to my HO scale Colorado & Southern Ry cab ride video, I've created an operations-oriented video entitled "Turning a Steam Locomotive":

https://youtu.be/nR8wGvz_KUI

This video follows the Denver Rice Yard Engine Foreman as he readies an incoming (leased CB&Q) 2-10-2 steam engine for its next assignment. I think you can see why sound and animation make this a popular job during operating sessions.

It's a bit different than most model railroad videos, and I hope you enjoy it.

Thanks.

Jim Ferenc
Boulder, CO
_._,_._,_
---
Groups.io Links:

You receive all messages sent to this group.

View/Reply Online (#65355) | Reply To Group | Reply To Sender | Mute This Topic | New Topic
Your Subscription | Contact Group Owner | Unsubscribe [archives@nauer.org]


_._,_._,_